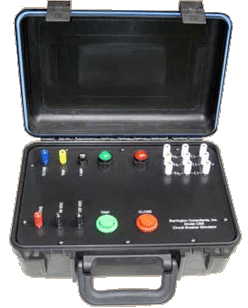 Avoid adding unnecessary "stress units" to high voltage circuit breakers.
The Barrington Model CBS (Circuit Breaker Simulator) was designed to be a convenient, light weight alternative to operating high voltage circuit breakers while testing the operation of substation protection relays.
CONVENIENT
EASY TO USE
PROTECTED
LIGHT WEIGHT
ECONOMICAL
QUICK SET-UP
Use the CBS to prove the trip and close operations while doing routine and commission testing of protective relay operations.
The Circuit Breaker Simulator operates on both 48VDC and 125VDC systems. Trip and Close connectors are provided for protective relay inputs. 6 Auxiliary contacts are provided for various test connections. 3 normally closed contacts and 3 normally open contacts are available.
The Circuit Breaker simulator has built-in protection against accidental reverse polarity or misapplied source voltages.
Manual close and trip micro-switch push-buttons are provided for user convenience.
Indicating pilot lamps are 100,000 hour rated super bright LEDs.
A BIG package and it only weighs 8.5 lbs.
Dimensions (in.) 14x 10 x 7
This is a picture of ten CBS units being used in a new substation control room to commission the relays prior to receiving the circuit breakers.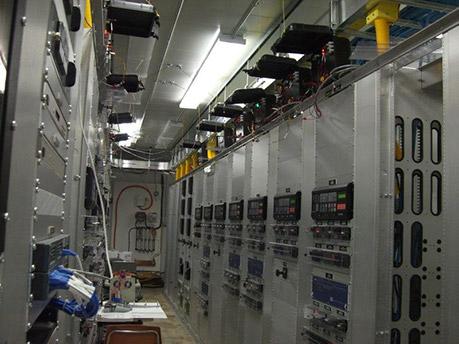 Barrington Consultants, Inc.
2239 Valdes Court, Santa Rosa, CA 95403
Tel 707-527-8254 · Fax 707-542-9730 · Email ghb@barringtoninc.com

© 1999-2023 Barrington Consultants, Inc.

Site Design by Pacific Web